Partager sur LinkedIn
 The urban project "Carré de Soie" launched by the city of Lyon aims to make the joint development zone of Villeurbanne unique, particularly through the presence of artistic works.
A creative and recreational approach that benefits the 3,500 inhabitants and 3,800 employees of this neighborhood. The challenge has been raised by the Nantes' artist Elsa Tomkowiak, technically supported by the company Ateliers Puzzle and Méca (calculation and redesign of the structure of the totems)
The colorful work called "Out / Albédo 0,34" is made up of large columns in steel structure and composite casing. Each totem weighs 675 kg and measures 4 meters high !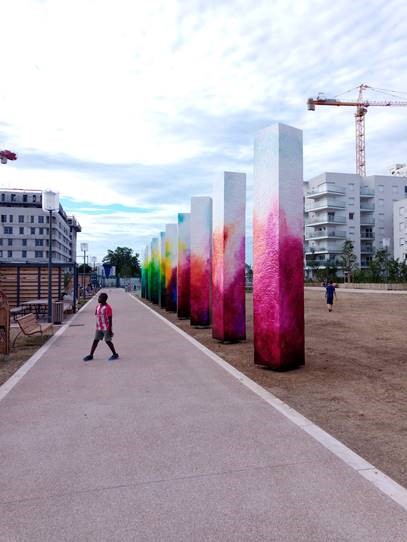 Out / Albédo 0,34 by Elsa Tomkowiak