Study of a wooden facade cladding of a silo car park - Îlot des Fabriques in Marseille
Partager sur LinkedIn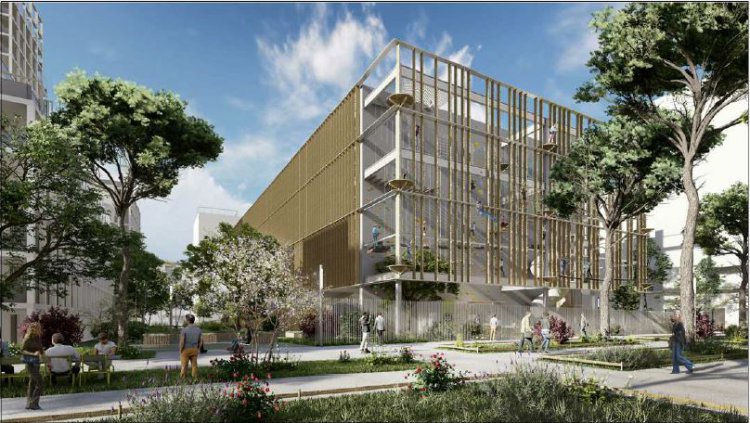 Wooden facade cladding of a silo car park - Îlot des Fabriques in Marseille
In Marseille, work on "Les Fabriques" eco-district began at the end of April. This is one of the largest urban projects in Europe, Méca is proud to have carried out the study of the wooden cladding of the facade of the silo parking.
The silo car park to the south of "Les Fabriques" is a 20.4m high car park with 422 spaces, which aims to meet the challenges of mobility in this area. The wooden facade cladding is made up of a series of solid wood slats fitted with sapwood, arranged vertically in relation to the ground and metal profiles arranged horizontally every 2 floors. This assembly constitutes a set of sunshades in accordance with the modenatures of the housing units in the district and aimed at camouflaging the cars in the parking lot.
The CLUSTER-Méca teams have worked to offer a technical solution in accordance with architectural requirements and capable of withstanding particularly severe environmental loads linked to the proximity of the seafront.
CONCEPTION-Méca proposed technical solutions allowing the feasibility of this wood-metal assembly according to architectural requirements. A general plan of a common facade and a detailed of the fixings between components were produced for consultation with suppliers by the customer.
CALCUL-Méca participated in the choice of design principles to respond to severe climatic constraints. An analysis by analytical method of the static behavior of the slats and profiles was carried out according to the Eurocode rules and the Market Documents. A study of the static behavior of fasteners by the E.F method was also carried out.