Calcul and design of a vertical axis wind turbine - WIND-IT
Partager sur LinkedIn
Vertical axis wind turbine - © WIND-IT

Three dimensional imaging of the vertical axis wind turbine

Three dimensional imaging of the vertical axis wind turbine

Three dimensional imaging of the vertical axis wind turbine
Mechanical design of a vertical axis wind turbine for company WIND-IT
Wind-it is a French start-up created in 2014, whose purpose is to provide power solutions for off-grid and poor-grid sites, especially for telecommunication towers. Its first solution is a built-to-energy telecommunication tower integrating vertical wind turbines.
The company WIND-IT have consulted Meca for the mechanical design of a vertical axis wind turbine, composed with 3 blades fastened to the rotor. The objective of the service was to look for constructive arrangements to meet the wind turbine's resistance requirements and to optimize the manufacturing costs.
Initially, our engineers studied the parameters allowing to obtain the lightest blade and arms possible. We analyzed the design of parts in motion :
Bearing Interface with fixed mast, Rotor / Stator guide,
Axle,
Arms,
Blades.
MECA has studied various material solutions for blades and arms (light alloys, aluminum, steel, composite materials). The aim was to respect mechanical criterias, as fatigue and to limit aerodynamic disturbances related to the profile.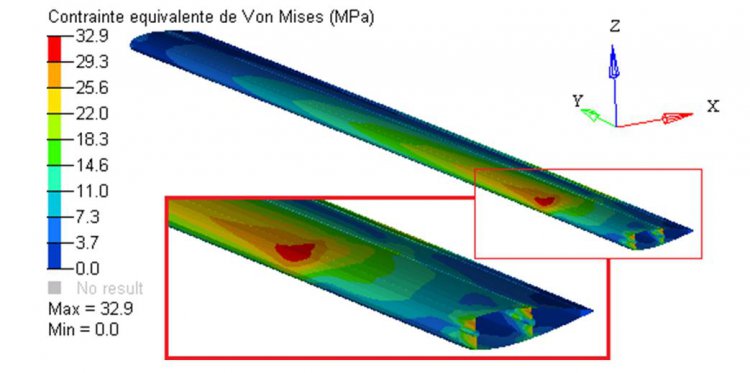 During the draft phase, MECA presents its results with sketches, diagrams, sections of principles and a matrix of choice with the advantages and disadvantages of the solutions envisaged.
The criterias identified for the matrix were : cost of production, assembly easiness and maintenance.
Our recomandations was then weighted by Wind-It.
The second step was to deepen and consolidate the design solution chosen by WIND-IT. MECA realized a 3D digitization of the chosen solution, detailing the components, rotation functions and assembly of the motion elements.
Finally, MECA has provided to WIND-IT a complete design documentation allowing to consult manufacturers with detailed plans for manufactured component and draping plans for composite elements.