Field of expertise
Our specialised skills are recognised in the fields of mechanics, calculation of structures and materials.
The behaviour of metals, composites, polymers, elastomers and glass
Composite materials,
Projection of materials' properties
Failure and reliability criteria
Fatigue behavioural analysis, linked to ageing
Links to construction standards and rules
Consideration of residual constraints linked to manufacturing
Elastomer materials.
Identification of materials' properties
Hyper-elastic calculations
Contact, friction, wear, major deformations
Failure criteria, usage limitations
Fatigue behavioural analysis
Visco-hyperelastic behaviour
Design and dimensioning of equipment - structures and mechanisms (static, dynamic, earthquake, impacts)
Calculation of solid mechanics,
Analysis of behaviour of structures,
Static,
Non-linear static,
Modal analysis,
Linear or non-linear dynamic,
Buckling,
Warping,
Fatigue,
Thermal calculations (permanent and transient states),
Thermo-mechanical coupling, CFD-Structure coupling
Mechanical optimisation,
Seismic calculations (spectral responses, time history)
Numerical finite element calculations using software: RADIOSS, NASTRAN, ADINA, ANSYS, Hypermesh, Optistruct, CAESAR, ROBOT.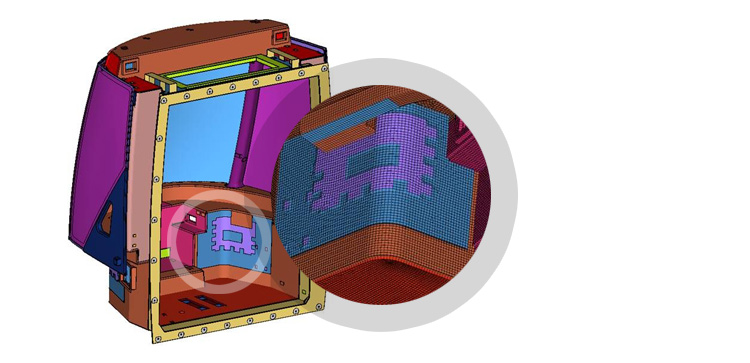 Compin tramway, Front End